SCA Elementary Hoodies
SCA Elementary Hoodies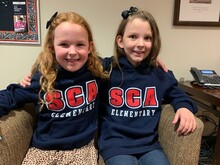 SCA Elementary Parent Council is excited to offer hoodies for sale to our students and parents for $30. The ordering period is from October 30th - November 17th. Payment must also be received within this ordering window.
To place an order, please complete our online ordering form by clicking here. Each form will allow you to order 1 hoodie. To order multiple hoodies, please complete the form multiple times.
To assist you with ordering the correct size, please view the sizing chart.
Payment for online orders can sent in with your child to the school office in a sealed envelope - cash or cheque are accepted (cheques payable to SCA Elementary School Council). If you place an online order but do not provide payment prior to November 17th, your order will be cancelled. Please mark the following on the envelope:
SCA Parent Council Hoodie $
Names of all individuals you placed an order for